Pam Mulligan '89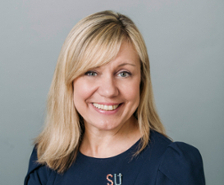 As Executive Director, Alumni Engagement Pam works closely with the Office of Alumni Engagement, the Metro New York Lubin House Regional Advancement and the event teams, to create and implement alumni engagement activities and special events for Syracuse University alumni, donors, parents, friends, current students, and prospective students of the University.

Pam has been involved in volunteer leadership with Syracuse University for a decade. She was President of the Central New Jersey Syracuse University Alumni Club, serves as an Alumni Admissions Representative, and was the Vice President of the Syracuse University Alumni Association Board of Directors and Chair of the Board's Philanthropy Committee.

Mulligan earned a Bachelor of Arts degree in Television, Radio, and Film Management from the S.I. Newhouse School of Public Communications with a dual degree in Political Science from the Maxwell School of Citizenship and Public Affairs. During her time on campus she was involved in many clubs and societies.

Pam practiced law for the past 10 years with prominent regional law firms. Prior to her law career, Pam served as a Media/Marketing Executive for over 15 years serving commercial and non-profit clients, including media and entertainment companies, financial institutions, professional organizations, and trade associations.