History
A Grand and Vital Past
Although the average New Yorker may not know it by name, Syracuse University's Joseph I. Lubin House has a remarkable history. You may first notice it because of the Syracuse University Orange flag flying outside, but it is the exquisite interiors that suggest the buildings' venerable history.
First Came 11 East 61st Street
The townhouse at 11 East 61st Street was designed by architect John G. Prague and constructed in 1876. Records show the first owner as Mrs. Susan Sullivan, but historians say it would have been highly unlikely for a woman to have purchased the land and contracted the building on her own at that time. More likely, it was built for her by her husband or father.
The 100-foot lot was purchased for $26,000; the townhouse cost an additional $25,000 to construct. Although the original style of the building is unknown, it was a first-class brownstone of the era: four stories high and 25 feet wide, occupying only 40 feet of land. And it was built with a hot-air furnace, something only the very wealthy could afford.
The house changed hands several times and, in 1883, was purchased by Mr. and Mrs. William F. King, who hired C.P.H. Gilbert—a Beaux-Arts trained architect known for designing the Woolworth mansion and a leader of New York City's Romanesque revival—to renovate. The house was extended, an additional floor was added, and an elevator was installed.
In 1897, the house was sold to Sir Almeric Hugh Paget, Baron of Queensborough, who had made a fortune in American real estate speculation. Paget subsequently married Pauline Whitney, eldest daughter of William C. Whitney, Secretary of the Navy under Grover Cleveland. After their wedding, the Pagets engaged McKim, Mead and White to give the house more grandeur. The dining room was extended for entertaining, and elaborate mantelpieces—which remain in the house today—were imported from Europe. 
In 1901, the Pagets moved to London and the house was sold to Wesley Thorne. Shortly thereafter, it changed hands again and was purchased by John Teele Pratt, son of Charles Pratt, an oil pioneer and partner of John D. Rockefeller. In 1912, Pratt and his wife, Ruth Baker Pratt, reengaged C.P.H. Gilbert to add a sixth floor and install a skylight over the stairwell. 
In 1923, the house was purchased by Elbridge Stratton, who retained famous architects Delano and Aldrich for a major renovation. The architects altered the original dormer windows and covered the facade with brick, giving the building its current neo-federal appearance.
In 1927, the house was purchased by Charles Shipman Payson and his wife. The Paysons lived in the house until after World War II, when they leased it to the Russian Consulate as an annex. In 1947, the house was sold to the 29 Club, founded by a group of businessmen after the stock market crash.
Enter Joseph Lubin
When the 29 Club club disbanded in 1964, the house was put up for sale. It was purchased by Joseph I. Lubin, a New York philanthropist who had risen from the slums of Brooklyn to become a renowned accountant and real estate investor.
Although Lubin earned degrees from Pace and New York University, his daughter Ann (now Ann Lubin Goldstein) attended Syracuse, earning a bachelor's degree in drama in 1948. From the time Lubin brought Ann to Syracuse for an admissions visit, he embarked on a lifetime friendship with then-Chancellor William Tolley and a relationship with Syracuse University that was just as enduring. Over the years, he contributed generously to Syracuse University, including establishing the Lubin-Tolley Book Fund, supporting the construction of Manley Field House and the renovation of Hendricks Chapel, and establishing a scholarship fund. Tolley named him a lifetime trustee in 1953.
In the early '60s, Syracuse had been trying to establish a greater presence in the New York metropolitan area, and had a one-room office at the now-demolished Biltmore Hotel. Lubin purchased 11 East 61st Street for the express purpose of donating it to Syracuse University. The facility—originally called Syracuse University House—was initially intended as a gathering place for area alumni. The walnut-paneled dining room, art gallery, and library could be used for classes, seminars, meetings, and receptions.
The Syracuse University Board of Trustees held its first meeting outside of Syracuse at the house on June 4, 1965. "The opening of Syracuse House, the new headquarters of Syracuse alumni in New York City, has already had a tonic effect on alumni morale in the metropolitan area," Tolley said at the meeting. In December 1965, the building was renamed in honor of its benefactor, and has been known since then as the Joseph I. Lubin House.
15 East 61st Street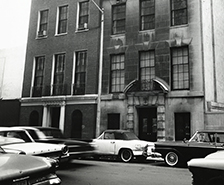 In 1966, the building next door to Lubin House, at 15 East 61st Street, was put up for sale. 
The five-story structure was originally designed by architects Breen and Nason for William B. Parsons and was erected in 1879. In 1919, it was purchased by Henry Batterman, owner of the Batterman department store in Brooklyn, who commissioned the very fashionable architect of the time, Mott B. Schmidt, to renovate. 
With the idea of one day expanding its existing space, Syracuse University purchased the five-story building, which was, at that time, divided into nine apartments—all rented. Syracuse assumed the role of landlord.
By the early 80s, it was evident the needs and uses of Lubin House had surpassed its capacity. Satellite admission and development offices were in operation. The guest rooms on the upper floors were kept busy by faculty and administrators with University business in the city, and a full schedule of social and educational events kept alumni visiting.
In 1981, Joseph Lubin made another major gift to Syracuse, this time donating funds to help renovate the neighboring building into usable space for the University. But it wasn't that simple. The apartments in the building were rent controlled and rent stabilized. Tenants were paying $300 to $500 a month for apartments that would command five to six times as much rent on the open market. The University then began a long legal process to displace the tenants and help them find new housing, gaining full occupancy of the property in 1992 and starting major renovation the following year.
While the facade of the building remains as it was in 1919, the inside has changed a good deal. Unfortunately, aside from several original fireplaces (which have been preserved) the building lacked Lubin House's period charm and interesting details. Under the direction of 1960 School of Architecture graduate Richard Hayden and his esteemed firm, Swanke, Hayden and Connell, floors were removed and rebuilt at the same levels as those at 11 East 61st, and the two buildings were joined at the first, second, third, and fourth floors. The renovation was completed in spring 1995.
In 2001, under the direction of Richard Hayden once again, building 11 underwent overall renovations to its infrastructure and restoration of its historic rooms. Renovations were completed in summer 2002.
From Alumni Center to Multiservice Satellite
While Lubin House was originally envisioned primarily as an alumni center, the expansion helped complete the facility as a multiservice satellite. Now, as many prospective and current students come through the Lubin House doors as do former students. New York metro-area high school students interview for admission; current students take part in special programs run out of Lubin House; and students meet with alumni and professionals in their fields in career development and placement programs. In addition, it houses workspace for staff from the Office of Advancement and External Affairs, who are able to engage alumni from the area in Lubin House's event spaces, Palitz Gallery, and other venues throughout New York City and neighboring locations.
The grand and vital history of Lubin House continues.